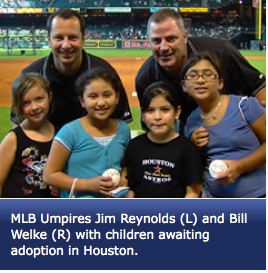 The 2010 BLUE Crew Tickets program begins this weekend and I've been given a homework assignment by UMPS CARE Charities that I think is best answered by fans of the game and not necessarily those of us working the games.
Question: What should children see or experience when they attend their first baseball game in your favorite Major League stadium? Please feel free to answer in one of three ways:
Twitter: www.twitter.com/UmpsCare @UmpsCare

Facebook: www.facebook.com/UmpsCare

Blog: comment here on my blog entry
Why we ask: We want our young guests to get the most out of their baseball experience. That's why we provide great seats, a goody bag of all-things baseball, and the chance to step on to the field for a souvenir baseball and photo.
Now we want to include a "best-of" list of things to see and experience for each stadium. The list will go in the goody bags for our kids and chaperones. If you were taking a young boy or girl to see their first game, what would you make sure they saw or experienced?
Examples:
Fenway Park – take a photo of the Green Monster.
Citizen's Bank Park – watch Phillie Phanatic ride around field on ATV before game
Camden Yards – A red seat in left field (Section 86, Row FF, Seat 10) marks the spot where Cal Ripken Jr. hit his 278th home run on July 15, 1993. That homer broke Ernie Banks' record for most home runs hit by a shortstop. Sit in the seat and have someone take your picture!
Wrigley Field – Celebrities sing Take Me Out to the Ballgame during the 7th inning stretch. See who will sing it today and sign along with them.
Angel Stadium of Anaheim – Be sure to watch the Rock Formation and Waterfalls area when the Angels hit a home run!
Learn More: Click and learn more about BLUE Crew Tickets