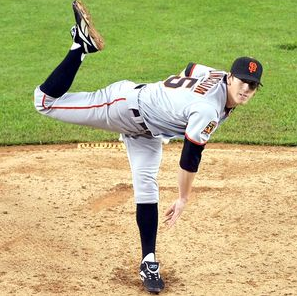 The reports read that last year's Cy Young winner, Tim Lincecum struggled with his control in the first outing of spring training. I probably could have foreseen those reports based solely on my swollen and bruised hip.
The likelihood of an umpire getting hit by a ball prior to entering the field and on a day when you are assigned to work the bases might lie somewhere between hitting the lottery and winning American Idol. But that is exactly what happened to me at the Peoria Sports Complex minutes before the Cactus League opener between the San Francisco Giants and the Seattle Mariners.
As a Major League Umpire getting hit by a baseball is part of the job. Getting back behind the plate every fourth day, you are bound to get hit and it must be taken in stride as just part of a day's work. But this was anything but routine and extraordinarily unexpected.
I was still 25 feet from the opening of the right field gate, and felt the results of a Lincecum fastball scorch me in the hip as his errant throw sailed over the head of catcher Bengie Molina.
As the sting and throbbing of the ball slowly subsided, I could only be thankful that the ball had not struck me in the head, or had it impacted another 3 inches to the left – a "sensitive" area might have hurt far worse.
I imagine that during the regular season the first time I see a player hit by a Lincecum pitch, instead of immediately pointing and awarding him first base, I might give him a pat on the back and tell him,  "take your time because I know how you feel."
Boy, that kid can throw hard.
Mike Di Muro is a 10 year Major League Umpire.  He is the author of the official blog of UMPS CARE Charities.  Please leave any questions or comments below.