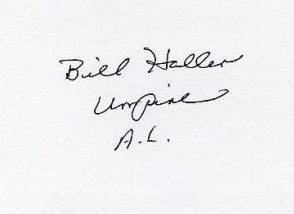 Rising majestically and towering above the downtown skyline is an American landmark. Visible from the field at Busch Stadium, this marvel in engineering and architecture stands as tall as it is wide. The Arch also known as the "Gateway to the West" has come to symbolize the spirit of early pioneers as settlers made their way through middle America on their way to a new life.
In the dressing room prior to the start of the series in St. Louis, the door opens slowly and in walks a man who needs no introduction to a single umpire. His 6-4 frame and commanding demeanor still visible though 25 years removed from the game. Sitting down next to us is Bill Haller, American League Umpire.
Though best known to the modern generation for his taped argument with Baltimore manager, Earl Weaver, Haller is and always will be so much more to the profession of umpiring.
In an era where the game was played and umpired with a blue collar spirit, absent flashy jewelry, loud music and self-absorbed histrionics, Haller ran the game with vigor and a heavy hand commanding the respect from both players and managers alike. In a time where a good old fashioned Ralph Houk or Billy Martin rhubarb was part of the game, Haller, never intimidated, stood his ground and graciously gave exit to those who would step out of line. Players and managers knew the unwritten code of conduct. It was never second guessed and criticized by an unforgiving media.
His ability as an umpire was proven over a 20 year career and for all those who worked with him. Haller simply was one of the best to come before us.
He talks with us for nearly an hour. His respect for the game of baseball and the profession of umpiring is evident with every moment. His visit gives us a connection to the many great arbiters who have given so much to this game. While it is easy to forget those, Haller reminds us that every man who has donned the blues and greys, is an ever important part of what the modern umpire has achieved.
Taking the field later that night, I can't help but smile at the St. Louis skyline and remember that so many have come before us in this game. Much of what we enjoy today would not be possible if not for these true pioneers.
Tonight in St. Louis, Bill Haller is the first to come to mind.
Mike Di Muro is a 10 year Major League Umpire.  He is the author of the official blog of UMPS CARE Charities.  Please leave any questions or comments below.