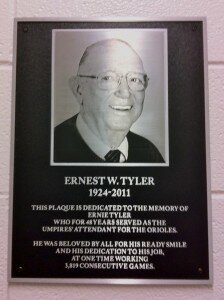 On Friday evening, entering Camden Yards in Baltimore, my legs seemed to be moving at an unusually slow and heavy pace. It was a walk I have made many times over the past 12 years. Weaving through the underground tunnels and hidden corridors – dodging busy vendors and staff preparing for the night's game, I ushered myself thoughtfully toward the umpires room.
It was within the final few feet of the entrance to the room that I realized it was not my legs that were heavy, but rather my heart.
It would be the first time that I would work in Baltimore since the passing of a man who has graced the presence of the umpires for nearly half a century. It would be the first time I would open the door and not see the man who stood tall in not only his faith but in a selflessness and dedication that is not readily exemplified in a modern generation.
As I carefully swung open the door, perhaps a small part of me thought I would see him one last time. His friendly smile and warm greeting was a moment I looked forward to in Baltimore. To say that he was one of us does not begin to convey the significance of Ernie Tyler to generations of umpires and all who were proud to call him a friend.
A man who stood tall in not only his faith but in a selflessness and dedication that is not readily exemplified in a modern generation.
Each ballpark has an attendant for the umpires, and while this might have been his title, Ernie Tyler's character far eclipsed that label and he became part of a tight knit group which, ordinarily is cautious and hesitant of outsiders.
Ernie was there when a young umpire named Lou Di Muro walked into Memorial Stadium with Eddie Hurley, John Flaherty and Cal Drummond for Opening Day on April 10, 1963. Sitting with Ernie one night he told me, "I remember that day so well because it was your Dad's first Major League game. Of course, Ernie would be there for my first game in Baltimore and span two generations of umpires.
Ernie's compassion for people never took a back seat to the game or the fan in him and his immense love for the Orioles. Tim Welke remembers just such a moment during the early 80's. He was a young umpire and recounts a particular game in Baltimore, "It was one of those typical nights back in the days of Earl Weaver. They wanted one strike zone for when they were batting and another for when they were in the field. It was a screaming match for most of the game. But during one half inning, Ernie came out to bring me some baseballs and he stood there with me and said, "hey, you are doing a great job, don't listen to them, they yell at everyone."
Major League umpires have honored fallen members in the past by wearing black arm bands or patches on our sleeves, but have only done so to recognize former umpires. This season, umpires wore black wrist bands with the initials EWT for all home games in Baltimore during the month of April. It was a historic salute that will not soon be repeated.
After the game that night as I leave the newly dedicated Ernie Tyler Umpires' Room, I can't help but glance back one last time. Ernie Tyler is not there anymore, but as I see the beautiful plaque with his photo displayed at the door, a somber smile slowly unfurls across my face. It is a smile full of memories – remembering a man who will never be forgotten.